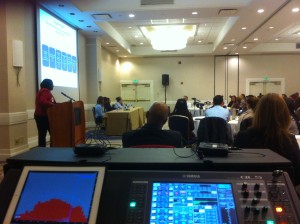 As a systems integrator, Madeo Multimedia can provide end-to-end solutions for a variety of communication needs. Services include system design & installation of acoustical treatment, distributed audio, point source and line array systems, multi-camera video production and projection systems, digital signage, video conferencing, A/V network media connectivity, closed circuit TV, surveillance video, theatrical lighting and control systems.
Our markets include entertainment, corporate, government, institutional and houses-of-worship and our services can be implemented for new construction or as a retrofit upgrade.
We also offer engineers, operators and equipment rental for temporary sound reinforcement, video production, large screen presentation and theatrical lighting for musical performances, plays and musicals, corporate events, sporting events, weddings and more. Contact us today to discuss your design and logistic needs for your next event.
Design and Installation Points to Consider:
To often many facilities are constructed without consideration to acoustical, audio, video and/or lighting systems. Most often the solution is an ineffective retrofit done by an in house employee in an attempt to save money. This method does not get to the root of the problem and often creates new ones, resulting is an expenditure that is two, three or four ­­­­­­­­­­times the cost of a properly designed and implemented system.
It is worth mentioning that any system, most notably lighting, should be re-evaluated every few years since the efficiency of the technology can now save considerable money in reduced energy usage. Many grants are now available that defray new system costs when energy savings are the concern. Madeo Multimedia assesses your needs and presents your company with this valuable information. Working within your budget, we will present the benefits and drawbacks of future-proofing options and how they will affect your return on investment.
For new construction, Madeo Multimedia works with architects and tradesmen ensuring complete quality control and attention to detail at every phase of a project. Our knowledge of current industry trends and latest technologies, combined with our commitment to customer satisfaction results in a service that always exceeds our client's performance expectations while keeping CFO's happy.